MICROCONTROLLER KITS
(click here: for Indonesian language)
Programmer and Target 89s51

Ready to run Atmel programmer will program AT89S51, AT89S52, AT89S53, and AT89S8252.
Easy to use Windows Programming software is included.
Works from a 5Vdc power source (not included).
Features
• Programs most MCS-51 AT series microcontrollers
• Programming ISP via USB Port
• Small and Lightweight Unit
• Windows Software Included
• All I/O pins connected to headers for easy external connections.
• Download Software and Sample Code Included
• Circuit Schematic Included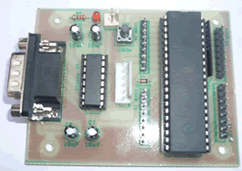 +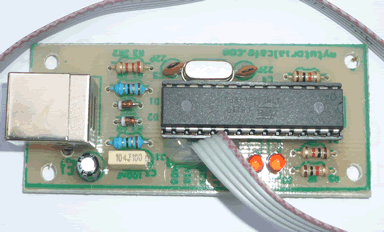 Devices Supported
• 40 Pin: AT89S8252, AT89S51, AT89S52,AT89S53
Please note: Power supply is not included, a regulated 5 volt dc supply is required.
Printed Circuit Board (PCB) Features
• 70mm x 70mm
• Tinned and Solder Masked
• Component Overlay Diagram (on top)
• Single sided circuit board
To use the programmer you will require:
A PC with a Pentium CPU or greater with a minimum or 64MB RAM with a CDROM drive and Parallel Port, running Windows 98® or above.
M IDE-51® or Similar Editor / assembler / Compiler - Free Provided.
ATMEL ISP Software - Free Provided by ATMEL Corp.
5v DC regulated power supply 500mA or greater with 2 pin header female connector.
Buy now for only USD $22
NOTE:
Total Price = Product price + delivery fee (according to your location, contact us via email)
Please, sent me an email for your detail : Kits, Qty, Name, Address, Post Code, Country,and Email

Payment: Bank Transfer
Bank: BNI Cabang Urip Sumoharjo, Surabaya, Jawa Timur, Indonesia
Account No: 0049517502,
Name: Triwiyanto
Contact:
Email: mytutorialcafe@yahoo.co.id
Phone: 62-081-55126883
Home: 0881-5546354
Address: Ngagel Rejo Utara V/24, Surabaya-Jawa Timur-Indonesia
Campus : Laboratorium Mikrokontroller, Jurusan Teknik Elektromedik Politeknik Kesehatan Surabaya, Jl. Pucang Jajar Timur No.10, Surabaya, Jawa Timur, Indonesia.